E-ISSN 2149-388X
|
ISSN 2149-0430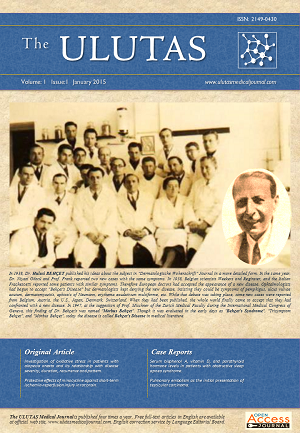 Ulutas Med J. Year: 2021, Volume: 7, Issue: 2
Review Article

Curtailing the Risk of COVID-19 Infection Among Medical Students Through Safer Handling of Cadavers During Anatomical Dissection




Original Article

Dosimetric Comparison of Scalp Protection in Whole Brain Radiotherapy Due to Brain Metastasis



Evaluation of Biomarkers in Patients with Sepsis Diagnosis in Pediatric Intensive Care Unit



Evaluation of Plasma Selenium, Zinc and Malondialdehyde Levels in Newly Diagnosed Preeclamptic Women at A Teaching Hospital



The Epidemiology of Hyperprolactinemia in A Single Tertiary Care Center: The Importance of Drug History and Role of An Endocrinologist



Is Fasting Necessary for the Assessment of Clinical Biochemical Parameters?



The Transmission Panorama and Epidemic Characteristics of SARS-CoV-2 of Jining City of China



Dermatophytosis in Bhairahawa, Nepal: Prevalence and Resistance Pattern of Dermatophyte Species



Is Vitamin D Deficiency the Invisible Part of the Iceberg in Preschool Children?



Organ Transplant Center Management and Patient Monitoring During Severe Acute Respiratory Syndrome Coronavirus Type 2 (SARS-CoV-2/COVID-19) Pandemia




Case Report

Acute Nonsuppurative Sialadenitis After Contrast Material Administration For Computed Tomography Angiography




Letter to the Editor

Acclaimed African Immunity or Resistance to Sars-Cov-2: Explore or Ignore?